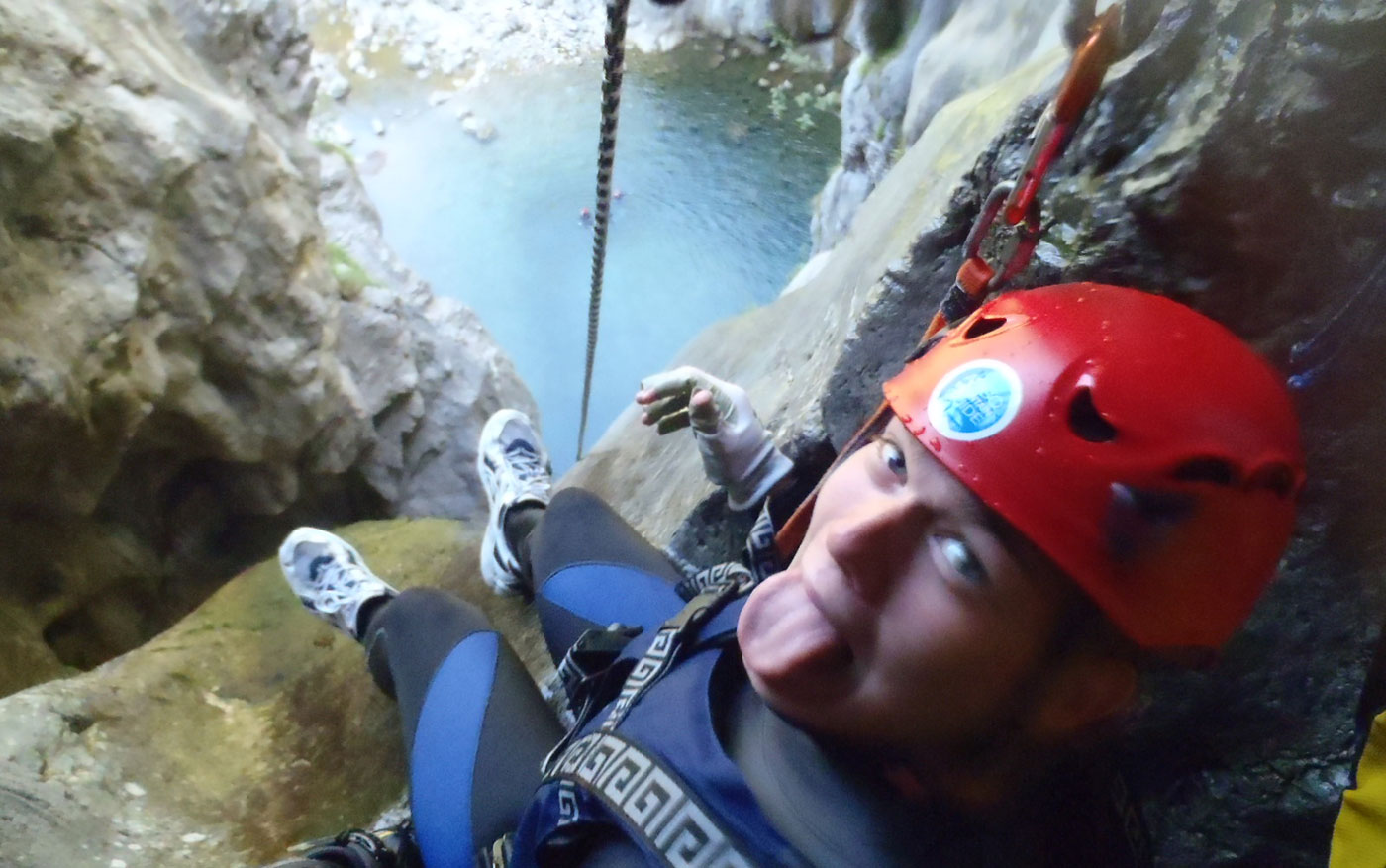 Canyoning Palvico in Lake Garda
Canyoning route in the Palvico river, in the Ledro valley
The canyon is located in the Ledro valley, in a beautiful gorge on the river Palvico; it is deeply scoured with lots of grottoes and narrow passages. The outset is very tranquil and halfway down there is a fast and fun slide for 15 metres which finishes by dropping you into a natural pool in a dimly lit cavern. We then go on into the cavern where the swirling waters create a light show prompted by every movement. The waters generate eerie sounds and a magical atmosphere, it is truly fascinating and has to be experienced to really appreciate it.
Fullness on adrenaline continues with a final abseil of 50 metres alongside a spectacular waterfall.
This canyon is rated as medium difficulty, perfectly ok for a first experience of canyoning but the slide and the final abseil are obligatory. If you have never done any canyoning, I would advise you to start with the canyoning Vione or the Rio Nero. You're welcome, if you are confident with the abseil and have no fear of closed spaces.
Meeting point in Ampola pass
Transfer from meeting point Arco, only on request price 5€ per person.
Transfer from your hotel, airport or train station on request.
Details
Necessary skills
mustn't have fear of water
Services included
Mountain guide UIAGM
Equipment rental
Transfer from meeting point Arco €5/person
In August transfert service from Arco is not included, only on request for 5€ per person
What to bring
Swimsuit already worn
Sneakers to be used in water
Towel
A complete clothes change and a pair of shoes
Meeting point with transfer
Caneve car park, Via Paolo Leonardi 38062 Arco TN
The car park is located near the center of Arco, in the Caneve area: it is comfortable, large, free and easy to reach, even on foot. From there we leave together with my van.
Google map
Meeting point
Albergo Ampola
Strada Per Tremalzo, 6
38060 Tiarno Di Sopra, Ledro (TN)
+39 0464 595041
Google Map
Notes
On demand rental of anti slip water shoes for €3,00
Canyoning
Palvico
When
from April to October, on request
Call
Write
Rent the action Cam for 15 euros and the micro SD card is yours
take home the best moments of your adventure